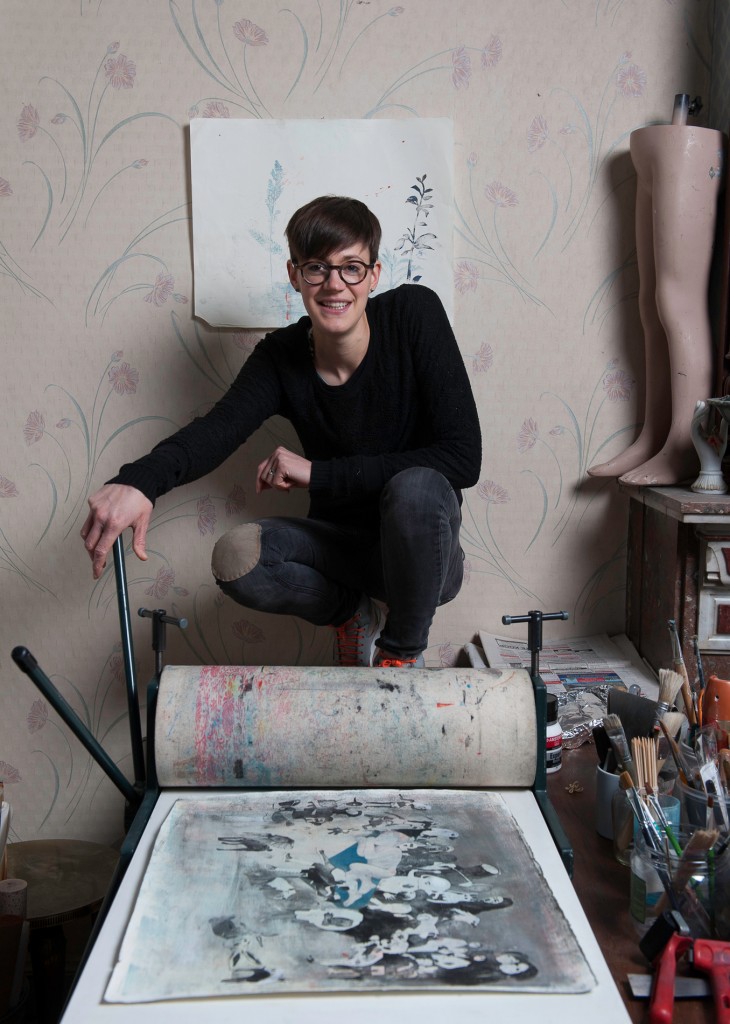 [Photography Eveliene Deraedt for Villa Verbeelding]
"I am inclined to think that my illustrations can only be good if blood, sweat and tears have preceded. While a free, rough and spontaneous sketch can sometimes be so much more powerful… and can come to the essence so much more."
After completing high school Kaatje Vermeire studied Graphic Design and Advertising at the Royal Academy of Fine Arts in Ghent, Belgium. She fell in love with illustration and experiment and furthered her study at this Academy, but now in Graphic Arts where she discovered the endless capabilities of graphics printing, including woodcuts and etchings.
The book De Vrouw en het Jongetje (The Woman and the Boy) (2007) for publishing house De Eenhoorn was her first major illustrative contract. In 2008 she received two awards: a Boekenpluim (Belgium) and a White Raven (Bologna, Italy). De Vrouw en het Jongetje has since been published in several languages.
Her second major project was to illustrate the picture book Mannetje en Vrouwtje krijgen een Kind (Man and woman are having a baby), written by Brigitte Minne.
Kaatje was also a guest blogger for Villa Kakelbont, which resulted in the story De V-vlucht van Otar (Otar's V-Flight). This picture book, both written and illustrated by Kaatje, has now been translated into Spanish and published by Barbara Fiore as El Vuelo en V de Otar.
Mare en de dingen (Maia and What Matters), written by Belgian author Tine Mortier, is Kaatje's third picture book and won the Grand Prize at the Picturale Competition in Ronse in 2010. This book has now been translated in more than a dozen languages.
Kaatje has already sold the Taiwanese rights to her fourth picture book, De vraag van Olifant (Elephant's Question), which is a universal love story. For her latest picture book, Japie de Stapelaar (Jack the Stacker), Kaatje worked with the Dutch author Bas Rompa and together they created a compelling tale about looking further and letting go. In the meantime all titles have been translated into Chinese (and other languages).
In 2015, Kaatje has been making wall-illustrations for the new Queen Mathilde Mother & Child Centre, a department of the University Hospital in Antwerp. Meanwhile, she also illustrated a new picture book for adolescents/adults in cooperation with the celebrated Belgian author & theatre maker, Peter Verhelst: The very tired Man and the Woman who passionately loved Bonsai. A peculiar love story about total surrender…
In the picture book Ans & Wilma – lost (based on a theatre play from actresses Alice Reys & Ariane Van Vliet) shows that Kaatje is also in for naughty, playful and hilarious stories. In 2019, she won the Boekenpauw for this picture book.
Her latest book In de tuin van Monet (In the garden of Monet) was published on the occasion of the exposition Monet – Gardens of imagination (12/10/2019 – 2/2/2020) in Kunstmuseum The Hague, by Leopold.
Kaatje's studio is a 'well-ordered' paper dump. She creates unusual and striking images from a combination of collage, paint, drawing and graphic techniques. With the help of these selected materials, Kaatje consistently produces beautiful illustrations that provide an extra layer to the text. She invites the reader to get lost in her detailed and bizarre images. When she is not working, Kaatje herself likes to get lost… in (un)known cities, nature, between cooking pots, musical scores, on stage and other universes…
Kaatje was guest at the Salon du livre et de la Presse Jeunesse in Montreuil (2010), the Beijing International Book Fair (2013) and the Berliner Literaturfestival (2015).